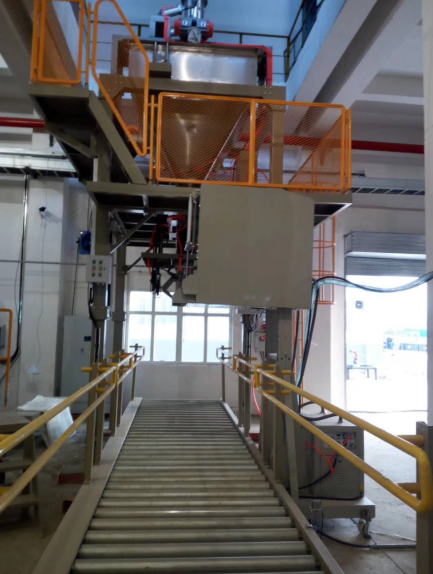 Wuxi Jianlong Packaging Co.,Ltd is one of the most advanced bulk bag filler manufacturers in China,we receive calls from many customers every day who are looking for the best bulk bag filling station for their application. The most common question they ask is "what is the price of the bulk bag filling station?"
Now let me explain what the price of bulk bag filling station depends on
Characteristics of your material
What is the name of your material?
What is the form of your material-granules, granules, powder, flakes, or lumps?
What is the particle size of the material?
What is the density and bulk density of each material?
What is the temperature of the material?
Is your material very free-flowing, semi-free-flowing, or non-free-flowing?
Will your materials bridge?
What are the characteristics of your materials? Is it sticky, corrosive, explosive or flammable?  Does it absorb moisture?
What is the moisture content of the material    
 Needs and limitations
What is the best feeding methods for your material?
What material is the support frame of bulk bag filler made of?
What material is used for material contact parts?
What finish specification is required for support frame and material contact surfaces?
What are your electrical requirements?
What motor class do you require ?
What power is available on site (Volt/Phase/Hz)?  
What are the dimensions – length, width, height, spout length, spout width?
Where does the materials come from - conveyor, hopper or other?
What is the weight of the filled bulk bag?
How long does it take to pack a bulk bag?
How many bags per hour?
If weighing, what kind of weighing accuracy is needed?
Do you need valve control?
Are there headroom limitations?
Will the filled bulk bag be removed by forklifts or conveyor such as roller conveyor,belt conveyor ,chain conveyor?
                                 Options
load cells
Vibration
Deaeration
Dust collector
Access Platform
Weighing Controller
Filling Control Valve
Pneumatic Bag Neck Seal
Bag Liner Inflation
Roller Conveyor ( or belt conveyor,chain conveyor)
Manual or Automatic Bag Loop Release
Fill spout with a Dust Extraction Vent
As you will find that it is very difficult to give a set price , we have to consider many factors.The lowest price of basic model is less than $10,000.00, meanwhile the price of the most sophisticated model is more than $100,000. 
If you want to know more about jumbo bag filling equipment ,please don't hesitate to contact us.
Please call us at +86 18020515386  or  +86 13382200234
Email to us: jianlongpacking@gmail.com  or  alexyang1978@hotmail.com
Or leave a message to us, we are always here within 24 hours.
---
Post time: Mar-19-2021