The automated system illustrated below is an example of a complete line built with our peat moss bagging and packaging solutions. This line is equipped with a vertical baler (flat film) producing small- and medium-size bales, an automatic compact palletizer, and a turntable stretch wrapper. No matter the scope of your project, Wuxi Jianlong manufactures peat moss packaging equipment for small- and large-scale productions.
If your operations include the production of large bales, Wuxi Jianlong offers packaging systems for various bale sizes (including large- and mega-size bales). An alternative solution for medium-size bales (using pre-made bags) is the four-station baler. If you produce peat mixes, Wuxi Jianlong also has a bagging solution that features a volumetric feeder, an FFS bagger, a conventional bag palletizer, and a stretch wrapper or hooder. Peat moss bagging and packaging machines from Wuxi Jianlong are accurate, fast and reliable.
In addition to the bagging and packaging solutions, Wuxi Jianlong can provide field and processing equipment. It includes products such as harrows, vacuum harvesters, root and stump picker, peat thermometer, peat trailer, loading ramp, screening systems, mixing lines, hammer mill, bale shredder & peat fluffer, conveyors, hoppers, etc. 
See below a comprehensive list of equipment that can be used in peat moss packaging. For more information, just click on any product you are interested in.
Bagging
Semi automatic bagging machine
Automatic bagging machine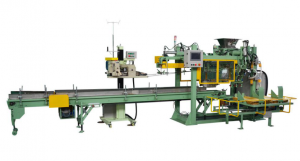 Jumbo bagging machine
Palletizing
Robotic palletizers
Conventional palletizers